Community Spotlight
Meet Melissa Wikman
Executive Director of the Muskegon YMCA
Melissa's journey to her current position at the Y has been a non-traditional path back to Muskegon via Chicago, New York, Europe, and Chicago again. Before returning to Muskegon and assuming a leadership position at the Y, Melissa spent many years working in management, product development and marketing communication for major global brands.
Melissa graduated with a degree in economics from Hope College and an MBA from the State University of New York. She also achieved certification in Innovation Methods from New North Center for Design in Business.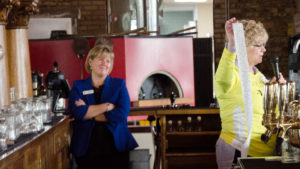 As Director of Worldwide Retail Marketing for Fisher-Price toys, Melissa worked both in New York and Europe creating marketing initiatives with partners such as Target, Walmart and Toys"R"Us and international retailers. She then moved to Chicago to market children's books for the Disney, Sesame Street, and Nickelodeon brands. Eventually, she served as Marketing Director for Whirlpool in Benton Harbor where she led the reposition and branding initiatives for the world's largest appliance brand.
In addition to her leadership responsibilities at the YMCA, she is also a certified YMCA trainer, YMCA Diabetes Prevention Lifestyle Coach, LIVESTRONG with the YMCA Coach, Enhance Fitness Trainer, and teaches Marketing and Business as an adjunct instructor at Baker College of Muskegon.
The Muskegon YMCA has been a constant in our community since 1916 promoting youth development, healthy living and social responsibility through programs and activities. The YMCA and the YWCA of Muskegon merged in 1972; and a few short years later, in 1979, the YMCA moved to 900 West Western. In October of 2015, the Muskegon YMCA sold the fitness facility and became what is known in the YMCA Movement as a non-facility YMCA.
Like almost 200 non-facility YMCAs across the country, they address current community health and wellness needs where they are most prevalent – at sites throughout the community. The Y now serves Muskegon through outreach programs at over 20 sites throughout Muskegon County. The goal of these programs is to Build a Healthy Future for Muskegon.
YMCA outreach programs include three main areas of focus:
1. Chronic Disease Prevention and Management
The Muskegon YMCA offers evidence-based programs for a variety of chronic diseases, including the YMCA Diabetes Prevention Program, LIVESTRONG with the YMCA for cancer survivors, and EnhanceFitness to help older adults stay active, mobile, and independent.
2. Water Safety
Through five weekly sessions, the YMCA's Safety Around Water program uses concentrated classroom instruction and in-water instruction to teach third graders about beach safety, boat safety, pool safety, ice rescue, water rescue, and first aid. The goal is to provide YMCA Safety Around Water for every third grader, every year.
3. Healthy Out-of-School Time for Kids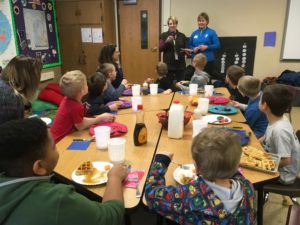 The Muskegon YMCA provides summer and after school programs that teach healthy habits through physical activity and hands-on nutrition education. Programs are custom designed using evidence-based curriculum to combat the causes of childhood obesity – we build programs with our partners to meet the needs of specific schools and neighborhoods.
Every day, the YMCA collaborates with community partners to make sure that everyone, regardless of age, income, or background has the opportunity to learn, grow and thrive. YMCA core values of Caring, Honesty, Respect and Responsibility are woven into every policy and program.