Community Spotlight
Meet Sarah De La Rosa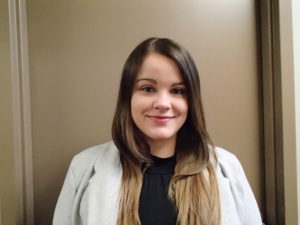 Sarah De La Rosa is a Case Manager with Mediation & Restorative Services and she facilitates Mediation & Restorative Services' Substance Abuse Impact Panels for both juveniles and adults. The panels use a restorative justice framework that asks for accountability, educates participants on the risks of alcohol and drug misuse, identifies the potential harm to individuals and the community, identifies opportunities for repairing that harm, and assists youth and families in planning to make better decisions in the future.  
Sarah is passionate about reducing substance abuse among youth and young adults and is a member of ALI, part of the Coalition for a Drug Free Muskegon County. Muskegon ALI's mission is to reduce underage drinking and alcohol-related injuries in Muskegon County. Sarah works on the marketing committee to administer the Facethebook Facebook page and the Facethebook Annual Contest, which aims to educate youth on the dangers of underage drinking.
Sarah has assisted the community in obtaining peaceful resolutions for their disputes in her role as Case Manager for Mediation & Restorative Services for more than four years. Whether it is a divorce, contract dispute, or neighborhood disagreement, Sarah works to bring parties together so they can resolve their differences and reach an agreement that works for everyone. As Mediation & Restorative Services' coordinator of the Michigan Special Education Mediation Program (MSEMP), Sarah assists parents, students, school staff, and other involved parties facilitate planning and resolve disagreements to ensure student success.   
Sarah earned her bachelor's degree in human services from Baker College of Muskegon. Prior to her work at Mediation & Restorative Services, she worked as a Youth Specialist at the Muskegon County Juvenile Transition Center.
For the past two years, Sarah volunteered as a Freedom Warrior for The Hope Project, raising awareness and funding to help local survivors of human trafficking. Until recently, she served as the group's Secretary and assisted in planning various fundraisers in the community.
Sarah lives in Muskegon with her husband Erik and her 5-year-old son Landon.