Community Spotlight
Meet Jamie Helsen Hecker.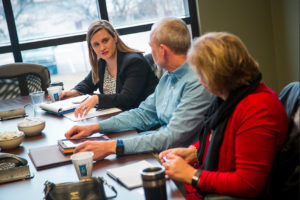 Jamie Helsen Hecker, Community Engagement Coordinator for Muskegon County, was born and raised in Muskegon—a town she now works to improve. After attending Muskegon Catholic Central and earning a B.A. in English from Western Michigan University, she went on to receive her Master of Public Affairs degree from Indiana University at Bloomington, with concentration in Nonprofit Management and Public Administration.
After graduation, Hecker spent time working in fund development at Michigan State University before going on to do an AmeriCorps year of service. She then worked with United Way of the Battle Creek and Kalamazoo Region and United Way of the Lakeshore.
These days, she dedicates herself to her job with Muskegon County Public Health as the Community Engagement Coordinator, heading up the 1 in 21 Healthy Muskegon County initiative. The countywide project aims to bring Muskegon County from its ranking as one of the least healthy counties in Michigan in 2011 to the healthiest by 2021. The two main focuses of the initiative are lowering smoking and obesity rates.
1 in 21 collaborates and coordinates with other groups to bring healthy changes to the lives of everyday people in Muskegon County with events and incentives throughout the year. The Mercy Health Seaway Run in June provides a fun environment for a 5K walk or run, as well as a competitive field for those who want to push to the 15K or half marathon races. Move150 Muskegon, which took place during the last week of April, encouraged people to get up and exercise for 150 minutes (for example, 30 minutes of exercise a day for 5 days), with a bingo card-style log. The final celebration in Hackley Park involved free yoga, Zumba, Pilates, belly dancing, and other activities, along with prize drawings for those who completed the 150 minutes.
Along with exercise, the 1 in 21 goal of reducing obesity looks at nutrition. 1 in 21 is a big supporter of the Farmers Market and the food hub project that is being piloted this May. The Farmers Market offers a large array of fresh, healthy produce and other food. The food hub is a project that aims to link schools, hospitals, and similar organizations to bulk purchase locally grown food. In its pilot stage, three public school systems, Kids' Food Basket, and AgeWell Services for Meals on Wheels are involved. The long-term goal is to establish a larger food hub near US-31 and I-96, engaging with highways, rail systems, and the port.
The other main goal of 1 in 21 is to reduce smoking rates. 1 in 21 partners with the KnowSmoke Coalition to educate and bring awareness about the dangers of smoking to the community. The most progress has been made here, with adult smoking decreasing by 26% between 2015 and 2016. This decrease brought the smoking rate to below the statewide average.
The 1 in 21 initiative is at the halfway mark. While the work is far from done, the organizers are hopeful that by 2021, Muskegon County will have made enough small changes to have a big effect on the county's health.