Community Spotlight
Nicole Flores, Community Leader Enhancing Enrollment in Oceana County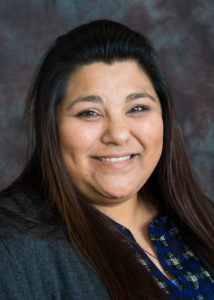 Nicole Flores is the Outreach and Enrollment Specialist at Northwest Michigan Health Services (NMHSI) and an active Enroll West Michigan partner. In addition to promoting the services that NMHSI provides, Nicole assists in helping patients obtain affordable insurance through MIBridges.com or through Healthcare.gov.
Nicole was born and raised in Oceana County as a child whose parents worked as migrant/seasonal farm workers. Her family settled out in Michigan in 1982 but continued to work in agriculture. From the early age of eight years old, she worked in the fields alongside her parents and younger brother until her younger sister was born. Then she stayed home to help and care for them while her parents were out working long hours in the factories. Education, hard work, and great values were instilled at an early age. Besides translating for her family on a daily basis, at 12 years old, Nicole was a teacher's assistant for migrant summer programs. She helped out in the office with translating for the parents and children that were Spanish monolingual only. She graduated from Shelby High School in 1992 and pursued her education at WSCC and graduated with an Associates Degree of Applied Arts and Science in Medical Office Information Systems in 2014.
Nicole has devoted over 20 years to helping people embrace diversity in public school systems and her community at-large. She partners up with community agencies and coalitions to assist families that are less fortunate with any needs or barriers they may encounter in their daily lives. Nicole is mother of three growing boys, her oldest being a 2016 graduate from Universal Technical Institute (UTI).