Staff Highlight
Meet Catalina Burillo.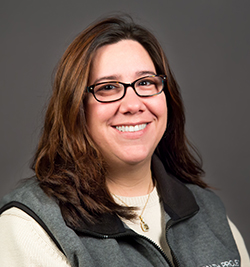 Catalina Burillo was hired in February 2016 as the new Community Health Improvement Coordinator for Oceana County. Burillo, commonly known as "Cat," provides administrative support to the Muskegon Health Disparities, Oceana HealthBound, and Oceana-Enroll West Michigan Coalitions. She also serves on the executive committee for the Oceana Substance Abuse Prevention Coalition and other task force groups and sub-committees. Her role as a coalition coordinator includes research and evaluation, data collection, analysis and management, and logic models that can be used for community awareness and action. Her position also includes assisting in grant writing and coordinating outreach events for Oceana County.
Burillo has a Bachelor of Arts in Interdisciplinary Humanities from Michigan State University, with concentration in Spanish, anthropology, and history. She also has a specialization in Latin American and Caribbean Studies. Prior to working at the Health Project, Burillo was employed by the State of Michigan for nearly 15 years.
For part of her childhood, Burillo grew up as a member of a migrant farmworker family where she learned a strong work ethic at a young age. From hand-harvesting crops in the fields of Oceana County as a teen to referring migrant families to local growers for agricultural employment, Burillo has worked full-circle in the agriculture industry for most of her life. Because of these personal experiences, Burillo has a strong connection with the local community and the transient Hispanic/Latino farmworker population.
In addition to her administrative support coalition roles, Burillo currently serves as the Chair of the West Michigan Migrant Resource Council and the Secretary/Treasurer of the Mercy Health Lakeshore Campus Advisory Board, in addition to her work with several other community organizations: Oceana Hispanic College Outreach Committee, the Oceana Home Partnership Roundtable, Northwest Michigan Chronic Disease Prevention collaborative, Healthy Families of Oceana County, and "Keep Out, The Teen Room Project." Previously, Burillo served as a Hart Main Street board member and was the Project Manager for the Hispanic Heritage Celebration for three years. In April 2013, Burillo was the recipient of the 2012 Hart Main Street Volunteer of the Year Award.
In her personal life, Burillo is the mother of four beautiful daughters who are active in sports and the arts. "Family comes first to me," says Burillo, who makes every attempt to prioritize and spend quality time with her children on evenings and weekends. In her free time, she volunteers as a member of the Parents Helping Pirates group and currently serves as the Secretary of the Hart Band Boosters.
Burillo is grateful to the mentors and friends who continue to challenge and support her process of learning, growth, and development.