Staff Highlight
Meet Dawn Rymal.
Bridging the gaps between school and community resources for students at Oakridge Public Schools.
Dawn described her role as a multi-layered position due to the fact that she is a CHW (Community Health Worker) at Oakridge Public Schools, but is also employed by Mercy Health under the Pathways to a Healthy Future Program. Dawn's primary role is to work with students and families within the school system to utilize all in-house and community resources to ensure the students are healthy and happy to help them succeed.
The multi-tiered Systems of Supports (MTSS) focuses on ensuring that each child is healthy, safe, engaged, supported, and challenged. Oakridge focuses on providing strong Tier 1 programs and partnerships in the areas of academics, behavior, and social services. These practices can range from utilizing the Be Nice campaign, Summer Reading Program, Vision/Hearing Screenings, etc. Dawn primarily works with students who need the Tier 2 and Tier 3 categories; i.e., counseling services, social worker services, assisting families to receive referrals to doctors, dentists, etc.
Dawn works under the Oakridge Community Wellness Network, which acts as a one-stop shop for families to receive the types of services and resources available in community. Dawn has direct connections with CHWs located at other Care Coordinating Agencies (CCA) to achieve this one-stop shop. There are other agencies that do not have CHWs who Dawn will work with for additional services; such as, the DeVos Children's Hospital and HealthWest. Oakridge also houses an MDHHS Pathways to Potential where Dawn will work with Success Coaches to ensure a family receives housing assistance, food stamps, and offers help where the family needs it most.
Back in March of 2012, Dawn's position was funded to check and reduce head lice outbreaks at Oakridge, thanks to the partnership with the Health Project's AmeriCorps Program. Her core responsibilities were checking for head lice, assisting in medication assistance, food stamp assistance, and enrollment assistance. Once her position grew, she started to coordinate the Fluoride Rinse Program, Mobile Dentist Program, and collaborate with Public Health of Muskegon County with Hearing and Vision Screenings. Dawn was responsible for following up with students who either were sent home three or more times a week due to lice, and to follow up with a home visit. She was also responsible for following up with students after seeing a copy of their dental X-rays and failed vision reports. After the initial follow-up, her role was to seek out any needed assistance for that student.
Dawn was also responsible for coordinating with Muskegon Community College and Grand Valley State University's nursing students to volunteer for the head and lice checks four times a year. As a result, students would do a pediatric rotation for their community involvement in school.
In 2015, Oakridge received a grant which led to a partnership with Hackley Community Care and Dawn to be employed by Mercy Health. With the coordinating efforts of Hackley Community Care, Dawn is able to provide home visits and seek out additional resources for families who may be struggling.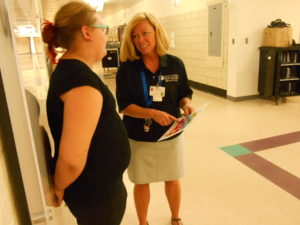 Dawn had a moment to introduce me to Aryana, a student with a chronic illness that Dawn has been working with for the past five years. Dawn remembers when Aryana's mother reached out to Dawn after Aryana received her diagnosis. "I got the phone call at 9 o'clock one night when Aryana received her diagnosis. I just wanted to be there for her and let her family know that I was going to be there for them."
Dawn currently serves on the Muskegon Community College Nursing Program Advisory Committee, the Oakridge District System of Care, Muskegon Oral Health Coalition, Oakridge Community School Wellness Network, and Hackley Community Care's Oakridge Community Advisory Committee.
In Dawn's spare time, she enjoys spending time with her husband and three children. She enjoys kayaking on the Pine and Betsy Rivers, located in Upper Northern Michigan.
"As a principal, we run into barriers with students who have roadblocks, and Dawn Rymal is the person we go to when we have any issues with trying to find a pathway for a child or if the family comes to us with needs of assistance—whether it be financial or medical. She has been our connection to other outside agencies in trying to find families the right pathway and the support for them to be successful." – Troy Moran, Principal at Oakridge Upper Elementary.