Staff Highlight
Health Project Welcomes Staff!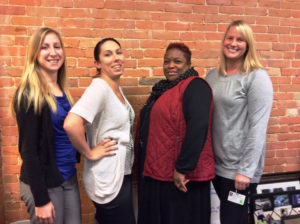 Emma Westerholm joined the Health Project's Enrollment team as a Community Health Worker specializing in enrollment for Medicaid and Food Assistance program. Emma recently moved from Iowa where she was a grant manager and enrollment specialist with a Federally Qualified Health Center.
Stephani Lomax, Enrollment and Pharmaceutical and Access Specialist, joined the Health Project's Enrollment team in November specializing in the pharmacy access program. A former pharmacy technologist from Mercy Health's Hackley Professional Pharmacy, she is a wealth of information about existing services for people.
Kharisma Kitchen is our new Department Secretary of the CHIR team. A long-time staff of Mary Freebed at Mercy Health's Hackley Campus, she brings a vast array of knowledge while working closely with our administrative leaders.
Kelli Delong is the Program Coordinator for the Community Health Innovation Region (CHIR), Michigan's test pilot for the State Innovation Model (SIM). Kelli has been with Mercy Health for six years working in both the hospital and primary care settings. She is experienced in practice management and operations and is finishing up her Masters in Health Administration from GVSU.