Kick Butts Day
Every year in March, the KnowSmoke Tobacco Reduction Coalition participates in Kick Butts Day (KBD). KBD is a day of activism that empowers youth to stand out, speak up, and seize control against Big Tobacco at more than 1,000 events planned by independent organizers across the United States and around the world. Every day, more than 3,000 kids under 18 try smoking for the first time and 700 kids become regular, daily smokers.
The KnowSmoke Tobacco Reduction Coalition has worked hard to promote a smoke-free generation in Muskegon County through prevention, education, and smoking cessation resources.
Past Kick Butts Day Events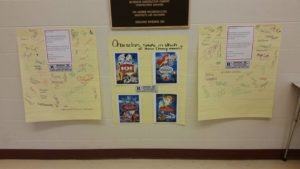 Kick Butts Day, organized by the Campaign for Tobacco-Free Kids, is a national day created for youth to take control of their lives against Big Tobacco. The KnowSmoke Tobacco Reduction Coalition participates yearly in this national day to raise awareness about the harm and effects of smoking in Muskegon County.
This year, the KnowSmoke Tobacco Reduction Coalition partnered with the Muskegon High School Teen Health Center's Youth Advisory Committee (YAC) to organize an event to educate students at Muskegon High School. The coalition members met with the YAC every other week to brainstorm ideas. In partnership with the recent Smokefree Movies Initiative, supported by Trinity Health, students wanted to tie in the smoke-free movies theme with the current Tobacco 21 Initiative.
The students created a survey and a poster containing the popular Disney movies Aladdin, 101 Dalmatians, The Little Mermaid, and Peter Pan. The movies selected had subliminal messages and scenes where tobacco products could be seen. Millions of youth were subjected to tobacco products. During the 2017 Oscars, 70% of nominated films rated PG-13 contained smoking.
On March 8th, large yellow posters hung in the cafeteria entrance with a letter to the president of Disney, Mr. Agar. Students anxiously waited to sign their names in favor of changing the ratings of Disney movies that contained tobacco use to an R rating. Surveys regarding the four Disney movies garnered these results:
73% of students thought raising the age to purchase and use tobacco products from 18 years to 21 years old would reduce smoking rates and save lives.
85% of students thought that 75% of all adult smokers began to smoke before the age of 21.
Only 21% of all students knew that 4 of the Disney Classics—The Little Mermaid, 101 Dalmatians, Aladdin, Peter Pan—had smoking in them.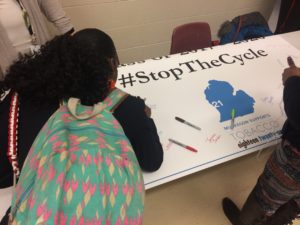 On March 15th, a large Tobacco 21 Initiative banner was displayed in the cafeteria entrance at Muskegon High School. Students were eager to sign their names in favor of the age increase from 18 to 21 years old in Muskegon County. Several conversations and debates could be heard as students voiced their opinions about the suggested tobacco age increase. "My mom started to smoke before she graduated from high school," a student was heard saying.
The banner containing over 100 youth signatures will be used for future Tobacco 21 Resolution of Support activities. These activities were an extension of the recent Resolution of Support signed by KnowSmoke Tobacco Reduction Coalition members and community members.
Mercy Health, as a regional entity, embraces a smoke-free environment across all campuses (including e-cigarettes) and national strategies to reduce and eliminate smoking in movies and media.
Click here for more information about Kick Butts Day.
Click here for more information about Tobacco 21.
Click here for more information about Smokefree Movies.