Community Health Worker Alliance's Legislative Day
Community Health Workers (CHWs) from Mercy Health Muskegon's Health Project traveled to Lansing on April 10 to participate in Michigan Community Health Worker Alliance's Legislative Day. CHWs from across Michigan met with their local legislators to share stories of challenges, impact and success in improving the health and social well-being of patients.
Carla Hines, Dawn Rymal, Edith Evans and Tressa Crosby, certified CHWs, met with Rep. Terry Sabo, and staff from Sen. Jon Bumstead's office, as well as Rep. Greg Van Woerkom's office. The Health Project deploys 28 CHWs to serve patients in the Lakeshore region.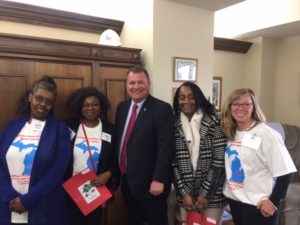 CHWs are trusted members of the community who help facilitate connection to the health care system, educate patients on managing chronic health conditions, enrollment into entitlement programs, and to address the social influencers of health.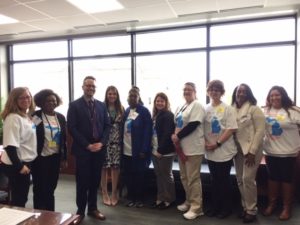 CHWs and CHW employers are seeking sustainable funding mechanisms to maintain and expand the availability of CHW services.