Drug Free Communities of Muskegon County
Held their Strategic planning session to help identify substance abuse issues that face our youth.
The Coalition for a Drug Free Muskegon County is nearing the completion of its four-month long Strategic Prevention Framework (SPF) planning process, a five-step process (assessment, capacity, planning, implementation, and evaluation) that lays the foundation for the DFC's efforts over the next five years. With funding from Substance Abuse and Mental Health Services (SAMSHA) and the Office of National Drug Control Policy (ONDCP), the SPF assists coalitions in developing the infrastructure needed for community-based, public-health approaches to reducing alcohol, tobacco, and other drug abuse.
Relying heavily on input from Muskegon's active members, the SPF process seeks not only to identify issues related to alcohol, tobacco, and other drugs but, also the contributing factors to the identified problem areas. Strategies and community-wide activities are then agreed upon to address the identified issues and serve as the basis for the DFC's official strategic plan.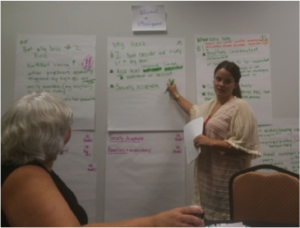 "We, as prevention professionals, can only paint part of the picture of need in our community. We rely on the greater community to help us identify and address substance abuse issues. Without individual and organizational input, we would not have a complete picture of the great work that is already underway, or an understanding of what still needs to be done. Drug Free Muskegon should be proud of the work they are doing with the community," said Jill Montgomery-Keast of Public Health – Muskegon County.
A draft strategic plan will be presented for approval to the Drug Free Muskegon coalition at the September 6th general membership meeting before proceeding with its implementation plan in October, 2017.
The following were identified as main substance abuse issues facing Muskegon's youth:
More than one-in-four (26.5%) college students report binge drinking in the past two weeks and 11.9% report using three or more times per week (Core Alcohol and Drug Survey, Muskegon County, 2014.)
More than one-in-four (26.9%) high school students report using marijuana at least once, with 15.3% reporting recent use (Muskegon MIPHY 2016). Eighty-eight percent of persons admitted to treatment for marijuana report starting before age 18 (LRE FY2016).
More than 1 in 4 mothers who gave birth (28.8%) reported using during pregnancy, compared to 1 in 5 (19.7%) statewide. This rate has increased 31% since 2006 (from 22.0% to 28.8%).
Use of vaping products has increased among teens and young adults, with 17.5% of high school students reporting current use. Nationally, among young adults (18-24), 13.6% report recent use and 25.8% report ever using.
There is a gap between initiation of substance use and admission to SUD services. In FY2016, most (78%) Muskegon County residents admitted for treatment reported using before age 25, but only 22% of admissions were for persons age 25 or younger.
Drug-related overdoses were the leading cause of accidental deaths in Muskegon County, resulting in 39 deaths in 2015. Although entirely preventable, 95% involved opioids and, of these, 89% involved multiple drugs (2015 Med Exam Annual Report.)