Muskegon ALI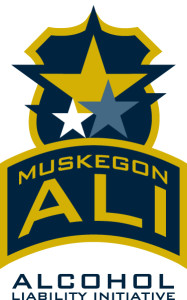 Established in 2008, the Muskegon Alcohol Liability Initiative (ALI) works primarily from a law enforcement agency capacity to reduce alcohol related injuries among youths and young adults in Muskegon County. It is the result of a data driven community planning process, conducted by the Coalition for a Drug Free Muskegon, which focused on issues of youth use of Alcohol and Tobacco. The successful strategies were ones that would use education and law enforcement to reduce under age drinking and alcohol related injuries.
Muskegon ALI works with the entire community from policy makers and educational organizations, to alcohol vendors, to the youth themselves. These practices are backed up with surveys and data analysis to assess successes and better inform future activities.
The group promotes sensible alcohol policies and programs on the county and city level. At the business level, the organization trains and educates liquor licensees, vendors, and servers to ensure they are aware of the law and the consequences for non-compliance. Alcohol vendor education is followed up with strong enforcement and annual compliance checks.
For teens and young adults, Muskegon ALI leverages existing alcohol education options or facilitates its own including education programs for safe driving, education on the consequences of drinking and driving, and other emergent issues. Finally, law enforcement provides on-site "party patrols" and other high visibility alcohol related enforcement to directly limit or intervene in under age drinking.
Muskegon Alcohol Liabilities Initiative Activities
In an effort to reduce alcohol related injuries among youth and young adult in Muskegon County, Muskegon ALI actively coordinates and engages in the following under age drinking prevention and education activities:
Provide law enforcement prevention support for area school districts at area events such as proms and party "hot spots"
Distribute information to all area school districts regarding alcohol use and consequences of underage drinking – FACE THE BOOK for 2011 campaign
Distribute alcohol retailer education packets annually to 250+ Muskegon area alcohol retailers
Provide low cost Responsible Beverage Education to several area retailers & Volunteer Beverage Server education
Conduct annual compliance checks to area retailers
Conduct high visibility alcohol enforcement in Muskegon County
Host Michigan Liquor Control Commission board members and officials at several Vendor Education Events.
Send Muskegon ALI members to Michigan Traffic Safety Summit and OJJP Underage Drinking Conference
Promotes Muskegon County Sheriff's Advanced Teen Driving Program
Conducts data analysis and gathering to better inform efforts and policies such as surveys for convicted drivers, students, and retail establishments.
Muskegon ALI Community Partners
Muskegon County
Muskegon Community Health Project
Muskegon County Sheriff's Department
Muskegon Area Intermediate School District (MAISD)
Muskegon Police Department
Muskegon Township Police Department
North Muskegon Police Department
Norton Shores Police Department
Public Health Muskegon County
Roosevelt Park Police Department
TIPS – Rochelle Richmond
Safe Kids
Tyler Sales