Muskegon Area Medication Disposal Program
Proper disposal of medication helps promote a healthy community! By removing unused medication from your home, you can reduce your likelihood for burglary along with reducing the chance for meds to be misused. There are environmental benefits too! By not flushing or throwing away your medication, you save the environment and water supply from contamination.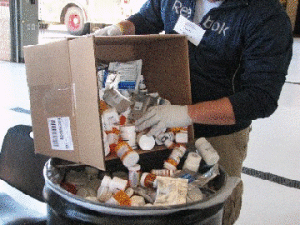 An overwhelming 8 tons (16,239 pounds) of medications have been safely destroyed since Feb 2010. The program is making an impact and a change in behavior for our area residents on how they dispose of their medications and sharps. According to the survey's completed by residents dropping off meds and sharps – 46% now use the Medication Disposal Program to safely dispose.
The DEA has changed their collection regulations and will no longer continue National Take Back Days. MAMDP has committed to one more event in April 2015 and then will reassess the community's need for one day take back events or maintain through the local retail pharmacy and law enforcement take back programs established through the MAMDP.