2017 KnowSmoke Zombie Walk
Oct 14, 2017
Calling All Zombies!
Being a zombie is cool. Being a tobacco zombie isn't. Join the Knowsmoke Zombie Walk and declare yourself part of the smoke free generation on Saturday October 14, 2017. The Knowsmoke Zombie Walk starts with check-in taking place at the L.C. Walker Arena at 1:00pm. Get tobacco zombie-fied and learn to do the zombie walk and then take to the streets of downtown Muskegon. After the zombies have terrorized the town, we will head back to Hackley Park for tobacco reduction related festivities. From 2:30pm to 5:00pm there will be light treats, fun activities, a monster dance, music and more. Prizes will be up for grabs for the best costume that displays the health hazards of tobacco use. FREE t-shirts will be available to the first 50 zombies to check-in at the L.C Walker Arena sizes are limited and available on a first come first serve basis. Youth age 13 and under need to be accompanied by an adult. No pets, roller blades, bicycles, smoking or weapons allowed for the safety of all participants. For more information call (231) 724-1263.
Register here on Eventbrite by searching 2017 KnowSmoke Zombie Walk.
Visit us online by going to www.knowsmokezombiewalk.org
Follow us on Facebook by searching @knowsmokemuskegon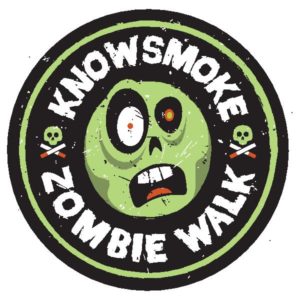 Download Flyer