Free Health Screenings in Oceana County
Aug 21, 2019
The Health Bound Coalition and the Health Project Identify Needs in Oceana.
According to the 2016 Community Health Needs Assessment (CHNA) report for Muskegon, Oceana and Newaygo Counties, 3 of the top 5 leading health care issues and concerns for Oceana that were identified were chronic illnesses. In 2016, the Oceana Health Bound Coalition created a long-term strategic plan which identified and prioritized the following top 3 issues among the health system, public health and the community sectors of Oceana to work on for the next 3 years: diabetes, obesity, and access to health services. Their strategies also included ways to increase capacity in Oceana County, and to provide both diabetes education and chronic disease self-management for those populations with diabetes.
Why is diabetes an issue?
Local County data: The chronic condition of diabetes in Oceana County ranks higher at 14.8% in comparison to the state average of 10.4%. According to the 2013 Michigan Department of Health and Human Services, the leading causes of death include a 24.6% rate due to diabetes in the DHD #10's coverage area, which includes Oceana. This rate is higher than the state rate at 23.7%. According to the Oceana County Behavioral Risk Factor Survey (BRFS), Oceana had worse scores than other counties in 4 areas including obesity, overweight, consumption of less than 5 fruits and vegetables daily, and physical activity.
State data: In 1997, 6% of Michigan adults said they were diagnosed with diabetes. By 2012, it increased to 10.4%. Further data estimate that 1/3 of adults are undiagnosed. Diabetes is more prevalent among people of color and in rural areas. Health costs for people with diabetes and those that are undiagnosed are estimated to costing Michigan $8 Billion. Michigan ranks 22nd out of 50 states with the highest diabetes prevalence among adults 18 years and older.
What is being done to prevent and educate on diabetes in Oceana?
The Diabetes Sub-Committee meets monthly and is comprised of Health Project staff, health providers, nurse hybrid case managers, public health educators and other local key stakeholders. Through their joint collaboration, planning and implementation; this sub-committee is committed to increase capacity at the health systems policy level which includes to screen, test, and create sustainable, community-clinic partnerships.
Goal: to increase the number of pre-diabetic or diabetics in Oceana County by taking charge of their health by successfully preventing or manage their type 2 diabetes through healthy lifestyle choices, prevention, and self-management education programs. There is an emphasis on increasing the number of those preventing, or self-managing type 2 diabetes among the local Spanish-speaking population.
Collaboration with partners is key! Through the collaboration of staff, health providers, patient medical homes, hospitals and other Oceana Health Bound Members/Partners, 3 free large health screenings events are planned for 2019.
Join the Health Bound Coalition, Lions Club, Health Project and more at three local health fairs on July 2nd, August 9th, and August 21st.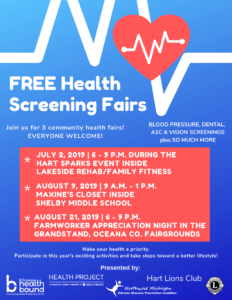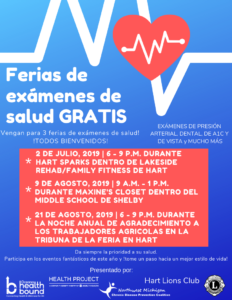 HFOC Diabetes Health Screening Fairs 2019 Spanish(1)