Men's Health Fair Event
Jan 7, 2017
Offering Free Health Screenings at Muskegon High School
The Health Project's Community Outreach team will be hosting its 16th Annual African American Men's Health Fair. The event will offer free health screenings for chronic illnesses.
Mimi Rankin, Outreach Coordinator at the Health Project, has a passion for reaching out to others and providing resources to those in need. "The African American Men's Health Fair started over 16 years ago due to lack of men participating in community health fairs. We have seen many African American men, who suffer from prostate and other health issues, that are hesitate to visit their doctor. This fair offers them the free screenings they need to feel confident about their health."
                        What: 16th Annual African American Men's Health Fair
                        When: Saturday, January 7th from 9:00 AM to 1:00PM
                        Where: Muskegon High School – 80 W. Southern Muskegon, MI 49441
                        Admission: FREE
Many screenings are available; such as, diabetes, prostate cancer, cholesterol, blood pressure, chronic kidney disease, HIV/AIDS, healthy breathing test, depression and anxiety, and many more. The first 100 men will receive a FREE ticket to the Muskegon Basketball Showcase. Games will be played Saturday, January 7th.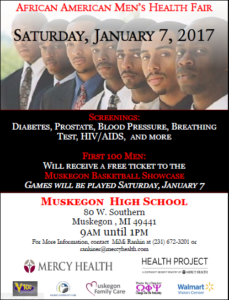 To print flyer, please click HERE