Health Project Offers Assistance During Open Enrollment
"We have more enrollment in Medicare this year than we have in ACA in past years," stated Liz Chala, Community Health Worker Lead at the Health Project.
The Affordable Care Act (ACA) enrollment period started on November 1st and ended December 31st. The Medicare enrollment period started November 15th and ended December 15th.
In 2018, the Health Project enrolled 57 clients into the Affordable Care Act (ACA) program that provided health insurance plans, and 73 clients into Medicare. In 2018, the Health Project direct staff enrolled approximately 558 clients into other programs for services and health care.
When the ACA first started, new patients were signing into a health plan, where this year, numbers have decreased, with recurring patients coming in to renew their plan in ACA. The Health Project has seen an increase in Medicare patients who can apply if they are 65 years old, disabled or are in kidney renal failure.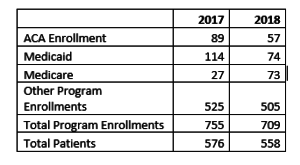 The clients who come into the Health Project can be assured that they are being taken care of by highly trained Community Health Workers. "They Rock!" exclaimed Liz Chala. "They are dedicated, hardworking, and always providing updated information in the best interests of our patients." The Community Health Workers are trained to be ACA Enrollment Specialists, attending training every July.  Medicare Certified Enrollment Specialists are located at both Oceana and Muskegon locations.
Since 2014, when the Affordable Care Act was first implemented, the Health Project has seen a change in promotion. Liz Chala explains that "the very first year ACA came out, the Health Project hosted neighborhood canvassing every Saturday, during the month of October. Rack cards were distributed to community members and neighborhoods to raise awareness of the programs and services they can access at the Health Project, including the health care insurance plans through the ACA". Now, you may see Public Service Announcements, social media ads, and bus ads to increase awareness of open enrollment and other services the Health Project offers. In Oceana, placemats are distributed to restaurants.
According to the New York Times, nearly 20 million people have gained health insurance since 2010, and that Michigan is one of the states with the lowest percentage of uninsured residents.
To make an appointment at the Health Project, please call 231-672-3201, or walk-ins are welcomed from 9 am to 4 pm, Monday through Fridays, at our Muskegon office. If you are an Oceana resident, please call 231.861.0321 to make an appointment. Clients will need to bring a driver's license, bank statement, proof of income and taxes, and insurance cards. We have Spanish speaking staff available.