Muskegon High School Students Raise Awareness for Kick Butts Day 2019
The Knowsmoke Coalition partnered with students from Muskegon High School's Youth Advisory Committee (YAC) to celebrate Kick Butts Day. Students were given the chance to share their reasons for not using tobacco and vaping products and "connect the dots" to encourage other students to be the next smoke + vape-free generation.
Tyreese Oakes, a sophomore at Muskegon High School, explained, "I chose to be smoke free because I lost a family member to lung cancer and I want to set a good example for the rest of my family." Tyreese shared how important it is for schools to step away from academics and teach students about the dangers of tobacco, vaping, and drugs.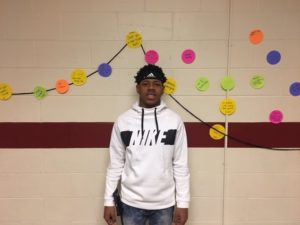 Over 500 "dots" were connected and presented in a collage near the high school's cafeteria. The YAC students and Knowsmoke felt it was important that classmates share their reasons for why they stay smoke-free. Victoria, a 10th-grade student on the YAC, shared that, "Smoking comes with disgusting health risks, and I choose to relieve my stress by staying active." The Youth Advisory Committee, coordinated by Joy Evans, works hard all year sharing the statistics on tobacco and vaping, and making sure kids have the tools to say "no" to tobacco and vaping.