Over 200 Zombies Walk to Raise Awareness About the Dangers of Tobacco Use
The 2016 KnowSmoke Zombie Walk was a tremendous success with over 230 participants walking through downtown Muskegon on Saturday, October 15th. The fourth annual event promoted the next smoke-free generation message while highlighting the health risks of addiction and tobacco use.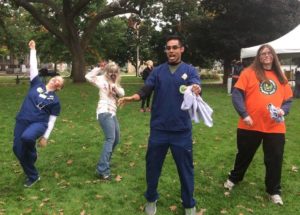 The event started at the L.C. Walker Arena where participants could take advantage of classes on how to walk and dance like a zombie and have zombie makeup applied. As the horde descended upon Hackley Park, they were educated and entertained with educational skits, music, and dancing. This year's event had help from the Hackley Community Care Teen Health Center's Youth Advisory Committee (YAC), who planned and implemented the walk, and Mona Shores High School, who developed promotional videos shared in the community. This KnowSmoke Zombie Walk was supported by 20 different organizations, and over 50 volunteer humans made the event possible. Each year, the zombies take over downtown Muskegon in support of becoming a smoke-free generation.
Stay tuned for more information at knowsmokezombiewalk.org.