The 17th Annual Men's Health Fair Offers Free Health Screenings
"So many young men who do not have insurance need to be covered. You'd be surprised that younger people are having more problems today. Early detection is the best defense for prostate and chronic health issues," stated Jimmie Fox, Community Health Worker at the Health Project. 86 men, young and old, attended the 2019 Men's Health Fair that took place on Saturday, February 16th at Muskegon Heights High School.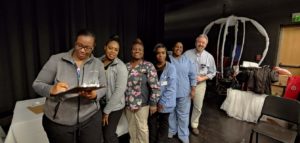 Since 2002, Mimi Rankin and her outreach team have seen hundreds of African American men screened for preventable chronic diseases, providing a need in the community. "Before the Affordable Care Act, the Men's Health Fair was the only check-up that men would receive because we offer free health screenings. Now, families and young men have access to a family physician and resources in the community," stated Ivory Morris, Community Health Worker on the Health Project's Outreach Team.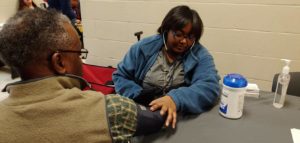 Screenings available this year were for diabetes, prostate, blood pressure, breathing tests, vision tests, and more.
Community vendors to provide education and testing were the Knowsmoke Coalition, Walmart, BlueCross Complete, Mercy Health Nurses and Doctors from the Mercy Health Lab, Hackley Community Care, Muskegon Family Care, The Y, HealthWest, and a Muskegon Chapter of the A. Philip Randolph Institute to register voters.