The Ride Hits Home For Health Project CHW
"It first started with chest pains," stated Dave Alves, a Community Health Worker at the Health Project. "The pain wouldn't go away, and I didn't know I was bleeding internally. I remember making a few phone calls and calling my daughter, who lives in Florida. At that point, I didn't realize how serious it was."
"David had what's called an aortic dissection, or tear in his aorta, and we took him to surgery as an emergency. He was in a critical state," said cardiothoracic surgeon Dr. Richard Downey of Mercy Health Muskegon. Fifty percent of those with David's condition don't make it to the hospital.
Today, after 14 years, and 4,800 riders with over 55,000 miles, The Ride is the lakeshore's premier indoor cycling event, and it has raised over $500,000 benefiting cardiac patients in need.
Dave participated in the 2019 The Ride to increase awareness in the community about cardiac related screenings and heart-healthy lifestyles. The Ride helps support free heart screenings for:
Free heart screenings for high school students through the Mercy Health High School Heart Screening Program.
Specialized equipment for patients receiving rehabilitation services at the Mercy Health Heart Center.
Scholarships for those in need of cardiac rehabilitation, but whose financial or insurance-coverage status precludes them from receiving services.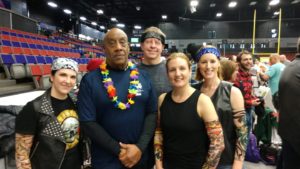 Dave Alves with his doctor, Dr. Robert Downey, and his staff.
"I am here today because of surgeon Robert Downey and his staff. I was in critical care and then intensive care. His entire staff was amazing. I am eternally grateful for the care I received at Mercy Health".