Zombie Apocalypse in Muskegon!
On Saturday, October 24th, the KnowSmoke Coalition put on the 2015 KnowSmoke Zombie Walk in Downtown Muskegon to raise youth awareness about the dangers of addiction and the health hazards associated with tobacco use.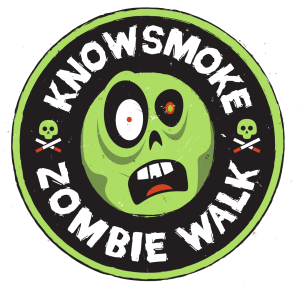 "Youth smoking is declining thanks to educational efforts," said Cyndi Powers, Lakeshore Lung Program Coordinator for the Health Project, "but our work is still not done." Powers teaches tobacco prevention to over 5,000 students each year in Muskegon, Oceana, and Newaygo counties as well as being involved in other various anti-tobacco projects.
The KnowSmoke Coalition piloted a county-wide zombie walk last year. Since it was was well received and supported by the community, the group made the decision to make the zombie walk and annual event that delivers the Smoke-Free Generation message.
"Through the walk, we hope to inspire youth to become the Smoke-Free Generation and NOT zombies of tobacco," said Missy Gallegos, a public health educator at Public Health. "It also doesn't hurt to have a little zombie fun!"
The walk took place starting at 12:30 beginning at the LC Walker Arena and ending with festivities at the Holiday Inn. Participation each year is FREE and the first 100 students (walkers) to register online, received a FREE T-SHIRT. Additional activities took place at the Holiday Inn after the walk, including music and entertainment by DJ Mus Mus, a zombie costume contest with prizes, and family fun activities.
All ages were welcome to participate. Anyone 13 years old and younger were accompanied by an adult.
Don't forget to Like the Zombie Walk on Facebook! so you can learn more about our walks and to get invited to next year's zombie walk!
KnowSmoke is a well-established community collaborative that brings a vibrant cross-section of community members together to reduce the effects of tobacco use in Muskegon County. Its main goals and objectives are to educate and increase community awareness about the dangers of smoking, provide tobacco treatment information, and to help create smoke-free environments in Muskegon County. Learn more about KnowSmoke.