Category Archives: News
Health Project Announces Community Benefit Board Initiative Grantees.
Funds support initiatives that address health needs identified in recent Community Health Needs Assessment.
Muskegon, MI, August 24, 2016 – The Health Project's Advisory Board of Directors announced their grantee recipients of the Community Benefit Initiative Grant Program. Grantees will be able to utilize their funds starting August 2016 through June 2017.
A total of $125,000 has been granted to this year's grantees: Catholic Charities West Michigan's substance abuse counseling program, Christians for Healthcare's community outreach and screening program, Salvation Army's food pantry, Montague Public School's food service program, Volunteer for Dental Care access program, Boys and Girls Club children's health and well-being programs, Kids' Food Basket expansion of the Sack Supper program, Oceana Hispanic Center's family nutrition education program, and Senior Resources home-based services.
The Community Benefit Initiative Grant program was created to facilitate the investment of community benefit funds by the Health Project's Board of Directors into the community. This fund supports initiatives that address health needs identified in Mercy Health's most recent Community Health Needs Assessment (CHNA). To view the full CHNA report, please visit www.MercyHealth.com\CHNA
Stevi Riel, executive director of the Health Project, feels strongly that community partnerships are critical to making progress in the improvement of health behaviors in Muskegon and Oceana Counties. "The Community Benefit Initiative Grant program is an opportunity for us to invest in our community and put our Community Health Needs Assessment into action. Improving the health of the population isn't a task that can be accomplished by one entity or group – we all have to commit to recognizing our place and moving forward together.  The best investment for Mercy Health Muskegon is in the organizations that have experience – and the outcomes – doing  the work that drives change at the community level."
Grants are awarded once a year. Applications for the next round will be available March 2017. Visit our website for announcements and upcoming grant opportunities.
About the Health Project:
The Health Project, the Community Benefit Ministry of Mercy Health Muskegon, has been an inclusive, community-based, decision-making, non-profit agency committed to improving the health of the community and the delivery of health care in Muskegon County and the surrounding West Michigan region since 1992. For more information about the Health Project, to download a copy of the CHNA report and to learn more about what they do, please visit www.mchp.org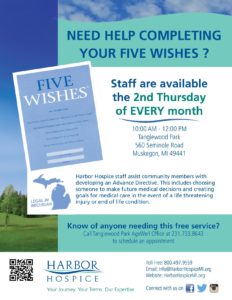 Harbor Hospice staff is available to assist community members with developing Advance Directives. This includes choosing someone to make future medical decisions and creating goals for medical care in the event of a life threatening injury or end-of-life condition.
Staff is available every 2nd Thursday of every month from 10am – 12pm. Tanglewood Park is located at 560 Seminole Rd. Muskegon, MI 49441.
Interested? Give Tanglewood Park AgeWell Office a call at 231-733-8643 to schedule an appointment. Click on the flyer below.
For more information, visit http://harborhospicemi.org/