Connecting Community Through Nutrition
"Last week, we made tacos!" exclaimed Tom. Tom is a Support Coordinator Assistant at HealthWest. Tom and 20 other individuals signed up to participate in Muskegon Prescribes Food for Health 12-week program. "It's a fun class! They incorporate healthy vegetables, whole grains, and fruits into meals that taste great. The idea of these classes is to teach others how to cook the same meals that we all grew up knowing and loving, but making those meals healthier for a healthier lifestyle".
"We partner with the YMCA every other week to host the Cooking Matters curriculum. On the off weeks, we invite our yoga instructor, Diana Springstead, from Serene Yoga, to hold yoga classes," stated Katherine Kaltz, Program Coordinator at Community enCompass.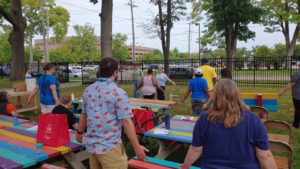 Two years ago, the MPFH pilot program was implemented to link low-income participants with fresh fruits and vegetables from McLaughlin Grows Urban Farm. This program supplies fresh produce to a group of individuals who have been diagnosed with a chronic disease, such as high blood pressure, diabetes, obesity, heart disease, high cholesterol, etc. The program identifies health conditions that may benefit from improved nutrition. "We even see individuals who are pregnant, suffer from chronic pain, or those who attend to feel a sense of community and to connect with others," stated Katherine.
In order for this program to be successful, the program has partners with multiple organizations in the community. Healthcare providers at Hackley Community Care write referrals for their patients to sign up for class and receive goods from the farm every time they attend class. Through the partnership with the YMCA, cooking classes are hosted every other week to educate the participants on nutrition and food preparation. Community Health Workers (CHWs) from Health Project Hub on the Lakeshore (Pathways) monitor the progress of the clients, and assist with the referral process while working alongside physician offices.
Today, the program is being supported by the Community Health Innovation Region (CHIR), and is a recipient of the Community Benefit Board Initiative Grant, organized by the Health Project.
The classes are held once a week for two hours for 12 weeks throughout the year. "Attendance is Key!" explained Katherine. "We reward those who have finished all 12 classes with a certificate of completion and a large kitchen prize." Think crockpot or Instapot. "Every week, participants get to leave with an incentive for attending the class. Today, we gave away kitchen scissors, spatulas, and every participant will walk away with a bag full of vegetables from the farm."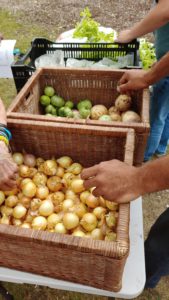 The program's long-term goal is to collaborate more with physicians and doctors' offices to become more involved in the program. "We would like for doctors to promote more of a holistic approach by supporting nutrition-based initiatives. By increasing access to healthy foods and education around cooking, we can benefit a patient's overall health."
"I think the program connects people who are yearning for more knowledge of eating healthier and cooking healthier meals. We are all on this health journey together. Food is universal. It does not matter what skin tone you are, or religion—people can connect with food. If you can have a meal together, and share the same space, you both will discover that you have the same common ground."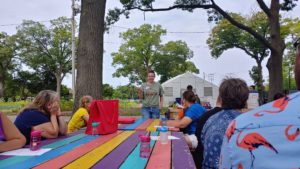 The Muskegon Prescribes Food for Health Project has wrapped up for the 2019 year, but those who are interested in the 2020 year may connect with Katherine at Katherine@communityencompass.org
Join Community enCompass for the Taste and See 2019 Tour on Monday, September 23rd at 5pm. TASTE & SEE 2019 is a progressive dinner tour and fundraiser through Muskegon's Core-City Neighborhoods. Guests get to see firsthand the great things happening in Muskegon and meet the neighbors who are making the difference, with food provided by downtown's premier establishments.
Tickets may be purchased here: http://www.communityencompass.org/taste-see