KnowSmoke Educates Community on the Vaping Epidemic
KnowSmoke Coalition members and Tobacco Cessation Specialist, Cyndi Powers, presented to over 100 Muskegon Rotary Club members on Thursday, July 11th. Cyndi presented on the vaping epidemic happening across the country and what they local Muskegon Coalition, KnowSmoke, is doing to combat the issue.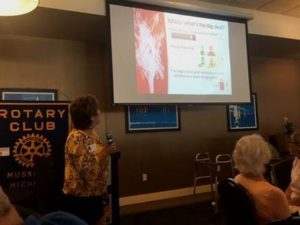 "When 1 in 4 high school students in Muskegon County are vaping, it's extremely important that they are aware of the legal, health, and social consequences," said Cyndi Powers. Since 2010, the KnowSmoke Coalition's mission has been to educate the community on the dangers of smoking, which now includes vaping.
Vaping is defined as using a battery-operated device to heat up a liquid into an aerosol that can be inhaled. Some of the harmful chemicals used in "e-juice" include diacetyl, benzene, propylene glycol, and nicotine. Due to the high amounts of nicotine being delivered through e-cigarettes, young users are finding it difficult to kick the habit. During the presentation, Powers explained, "We are finding that the majority of parents and students aren't aware of the harmful chemicals in e-cigarettes or that they contain nicotine."
The coalition has spent the last year educating themselves about vaping and sharing what they have learned with the community. In partnership with the Muskegon Area Intermediate School District and other local organizations, the coalition will be launching their "Vaping Toolkit" into local area schools. The toolkit will include educational materials to inform students about dangers of vaping and resources to help schools continue this education.
If you would like to get involved or learn more about KnowSmoke, visit our Facebook page or our website.