Staff Highlight
MEET EMMA JOHNSTON
As a community health worker in direct service, Emma Johnston's main concern is health insurance through the Affordable Care Act and Medicaid; but she also works with other DHS programs like food assistance and State Emergency Relief, utility bill assistance through True North and MOCAP, and any other kind of community referrals or aid possible.
From November 1, 2017-December 15, 2017, almost all of Johnston's time has been dedicated to the Affordable Care Act open enrollment period, during which time people without the possibility of enrolling in job-based health insurance are able to shop for insurance on the federally funded Marketplace, where many people can find affordable insurance. This year, the enrollment period was cut in half (previously it lasted through January 31), so the push to get people enrolled for 2018 has been shortened.
Johnston is also fluent in Spanish, which has opened many doors. At Health Project, that skill set is put to use in many ways.  In addition to assisting with applying for health insurance and food assistance, she has helped Spanish-speaking clients fill out passport applications and FAFSA forms, called accountants to answer questions about taxes, helped enroll a child in Head Start, requested a change to a bus route to accommodate medical needs, and coordinated the removal of a large tree branch blown down in a driveway.
This past summer, Johnston was one of three bilingual Health Project employees to be trained as a lay leader for the University of Stanford's Diabetes: Personal Action Toward Health (D-PATH) class, with the goal of improving health outcomes for Spanish-speaking diabetics in Oceana County. The six-week course focused on a personal management of diabetes—looking at both the physical and emotional sides of living with a chronic disease. In November, the first Spanish-language D-PATH class to be offered in Oceana County finished with 10 graduates, and the funding is already in place to offer another class in the spring.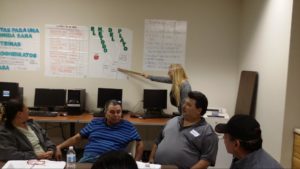 Emma Johnston studied Spanish and English at Northwestern College in Iowa, graduating in 2014 with a bachelor's degrees in Translation and Interpretation, and English Literature. For the following two years, she worked at a federally qualified health center as a medical interpreter and as the grant manager for a federal family planning grant. She moved to Muskegon with her now-husband in the summer of 2016, and has been working at Health Project for a little over a year. Since the move, she has married her husband, joined the local running group Run Muskegon, and adopted a puppy.